Production form factor is a strong determinant of the product produced and cost per unit. Currently, the majority of electronics are produced in a semi-batch sheet-to-sheet (S2S) process flow. In this mode, each board is fed through individual steps in sequence. However, in such a format, the size of the board is limited, the substrate would need to be dimensionally stable and the unit costs would be high. Consider the case of building an illuminated wall. In a S2S format, the illuminated wall will need to be in smaller pieces stitched together, the wall will be built on a rigid substrate, and has been cost prohibitive because of manufacturing and installation costs.
What if the illuminated wall could be built like old fashion wallpaper?
The digital nature of processing on PulseForge tools enables us to manufacture in a varying of form factors. A significant rethinking of how electronics are manufactured enables us to create a near-continuous production line in a roll-to-roll (R2R) format. In collaboration with the 
Holst Center 
– a leading innovation center in flexible and printed electronics –NovaCentrix has built a scalable PulseForge platform that allows reflow of standard lead-free solder on polymeric foils in a roll-to-roll format.

(above image: RGB LEDs on PEN produced on the pilot line)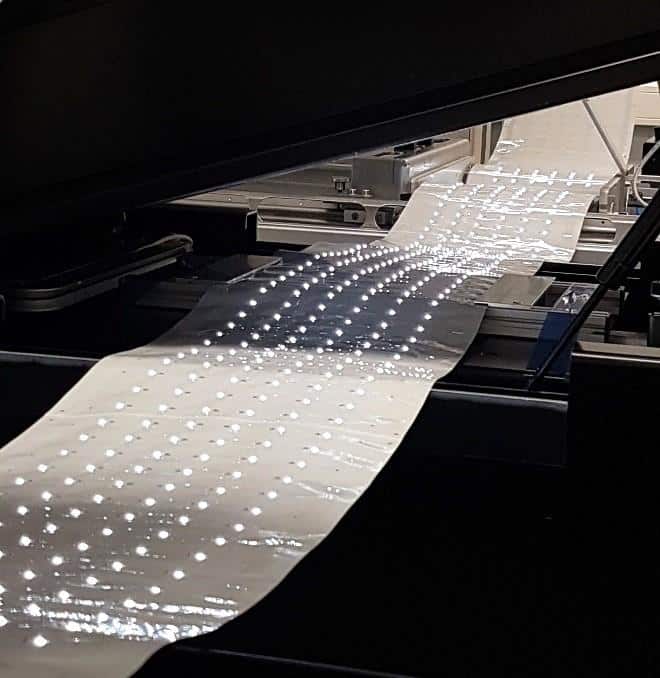 (above image: roll of 0603 LEDs on PET produced on the pilot line)
Soldering on the PulseForge tools has been covered 
elsewhere
. In short, this process uses preferential absorption of visible light at the junction to reflow standard solder alloys in a nonequilibrium format. For the Holst soldering demonstration line, a dual-sided PulseForge tool was designed with the capability to process a suspended web of materials from both top and bottom – providing additional tunability to the process.
The concept of the illuminated wall is now fully feasible. Each section is large enough to reduce the number of interconnects and the substrate is a flexible roll that could be easily transported. Additionally, the physical form factor aligns with what's currently used in construction and could easily be folded into wallpaper installation.
More advanced electronics with logics, sensors, and batteries can be manufactured in such a format. Significant advances have been made to enhance the R2R production line. By utilizing ultra-fast placement and soldering techniques, all units on the line can be working continuously at their optimum processing speed. This continuous mode of operation contributes to achieving high production rates and yields which are quite crucial to fulfilling the promises of the printed and flexible market. The current R2R pilot lines are built on 150 mm or 300 mm widths. The production width can be increased to keep up with the desired high volumes. The final product is inherently flexible, cost-effective, and lightweight.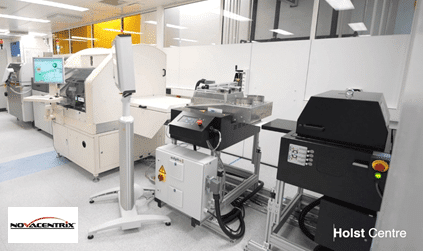 (above image: pilot line with integrated PulseForge at Holst Center, Netherlands)
High throughput
 Low-cost operation
 Fully automatic
 Multiple sequential processing steps
 Handles varieties of substrates and components
 SMEMA compatible
 Light shielding
 Safety interlocks
Written by Nikhil Pillai

As an Application Engineer, Nikhil Pillai contributes to bringing customers from Europe to assist process development tasks, establish how PulseForge and in-house developed Metalon inks can help to create new opportunities in Printed and Flexible Electronics industry by tackling customer concerns and assessing technical feasibilities. Since joining NovaCentrix, he is located at Holst Centre, The Netherlands where the goal is to interact with European customers more efficiently and offer support whenever needed. Currently, he is intensively involved in Photonic Soldering activities which took a major reroute since 2017 – attracting more businesses and opportunities where a conventional reflow oven functionality is limited. Nikhil obtained his M.Sc degree in Print and Media Technology from Technical University Chemnitz, Germany where his work has been successfully published in the Journal of Electronic Materials. He has co-authored in printed electronics technical conference journals and publications. He also holds BS in Mechanical Engineering from SNGCE, India.